Happy New Year 2016.  I trust that you had a good Christmas Break and are refreshed and ready to return to your post.  I found this cartoon hilarious but all to true as it takes energy to reengage after a time of rest.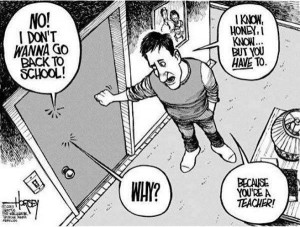 New devices, new years resolution and reflection are on our minds as we start up our classrooms again.  It's a softer start as our students are already used to our teaching routines since September 2015.  But this softer start may be a time to reflect on how the Fall went for your classroom (students directly affected by your teaching practice).  This time of reflection is not so that we can beat ourselves up over what went wrong but to look at what went right and to make the right part better than before.    Don't be a "No, but…" teacher but be a "Yes, and…" teacher.
Over the next while I will blog about apps and devices for use in education.  This will not be an exhaustive review but a look at how we use tools for different jobs.
As a teaser, consider the hammer.  What's the best hammer for you?  Depends…
Have a great start of 2016!
Carpenter out!