Physics says work has been done that when a force is applied to an object to cause it to change location (displacement).  What work is done in the process of learning?  That is, what force drives the learner forward in their learning and understanding.  There are external forces like parent, teacher, monetary rewards one-day and so on that can motivate us to learn.  But consider the internal drive that can carry one farther to learn for the sake of learning and self confidence.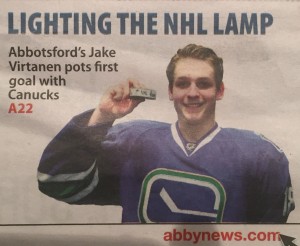 Jake Virtanen, a Vancouver Canucks 2014 draft pick, started the 2015/16 NHL Season with the Canucks.  As a rookie he needed to prove himself to the coach to remain a part of the team beyond Game 10.  On Sunday Nov 1st, Jake Virtanen and Jacob McCann, another rookie, were welcomed to stay in the big organization with the rest of the team and not have to go down to the Canucks Farm Team, the Utica Comets in New York.  What a sense of accomplishment to have his dream realized.  Jake as a young hockey player in the Lower Mainland and in Hockey Academy at Yale Secondary likely dreamed of one day making it to the big show, the NHL.  Well, his dream has come true, but now the trick is to stay there and play hockey for much longer.  On Monday November 2nd, during the Canucks vs. Philadelphia Flyers, at 8:28 in the third period, Jake scored his first NHL career goal!  Yet another milestone for this young 19  year old from Abbotsford.  So how did he get to this place of success.  Likely through HARD WORK, parents and coaches who did not relent in pushing him forward.  Was there a cost, quite likely, but as he is enjoying his time in the Canucks bench, it may just be work all the work of the past.
Relentless Persistence is a way of looking at what motivates me to learn. I believe I am a relentless learner who persists at the task of learning so that I can be a better educator, husband, father, fisherman and friend.  As a research scientist in my former career relentlessness was a key driver in succeeding over chemicals to accomplish new molecules.  Chemicals have attitudes (or are those just their properties) and researchers need to be more tenacious than the chemical to overcome and make new medicines.   I am learning all the time and as I discussed in my last blog entry, all the time learning is important.  The work of learning is the force of motivation combined with moving one to a position of better understanding.  Learning is reflected in understanding content and how to apply that content to new problems.
The challenge of being an educator, parent or another caring adult in a child's life is how to grow relentless persistence into their character.  Tenacity and stick-to-it-ness are very important character trait that should gently and delicately be woven into a child's life.  As they get older inertia sets in and more fore is needed to grow these traits..  How are you modelling relentless persistence to those in your sphere of influence?
A very motivating video called the 51st Door show how hard work, relentlessness and persistence can pay off.  What drives you?
Go be a relentless persistor!